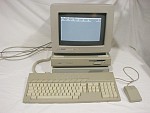 Midijoy
Midi improvisation program for Atari ST
In earlier days there was the Atari ST computer. A great computer for musicians, with a very solid midi interface (midi is the language synthesizers understand).
I wrote midi applications for the Atari, and Midijoy was one of them. Midijoy aquired some popularity among atari users exploring midi. I started it in 1991, the last update was in 2003.
The idea is derived from a MIDI-program I used on the Mac (a very early Mac), called MUSIC MOUSE, programmed by Laurie Spiegel. The concept of MUSIC MOUSE was simple: The X and Y position of the mousecursor generates a value. Transform these values into midi note-on values, and there is music. MIDIJOY uses the same concept as Lauries program of using X and Y axis's in a grid to control the music. However the similarities end there as MIDIJOY expands on this concept giving it a very unique sound.
To make the interpretation of the mouse movement more musical, I assigned scales to the X- and Y-keyboard. I also fiddled around with the other midi- parameters, such as velocity, program changes, control changes (modulation, panning), even pitch bend. Scales can be transposed, the note length can be changed, the mouse can be assigned to have different functions. The scales can be edited, the function keys can be used to assign a X-Y position and a scale, and so on.
Midijoy recensie
Recensie van Midijoy in de voorloper van het blad Interface, dat audio- en midigebruikers wel kennen. Die voorloper heette Shiva Midi Bulletin dat nog werd verspreid op een aantal gekopieerde aan elkaar geniete velletjes. Vandaaruit is uiteindelijk Interface Magazine geëvolueerd.
Click to enlarge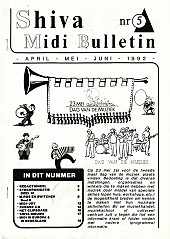 ---
Midijoy images
Click to enlarge