Synthmaster/KV311
The leap in years from 2000 (see other page) to 2014, is considerable. Things have changed. A synthesizer used to be a real physical device. In our days, a synthesizer is often a so called soft synth, bits and bytes to load into the computer.
Restarting with Logic 9 this year and experimenting with its sounds did not satisfy me. I missed my good old Ensoniq TS-10 and its sounds. (Although I don't miss the inserting of numerous floppy discs with sounds.. what is a floppy disc again?)
Things started to change when I found on the internet the AU plugin Synthmaster Player, which gave me with its sound the same inspiration I found in the Ensoniq TS-10 a long time ago, much better than the standard synthesized sounds Logic 9 has to offer. The quality of Synthmaster is twofold: a) the overall sound quality, and b) the excellent programming of the sounds delivered as presets.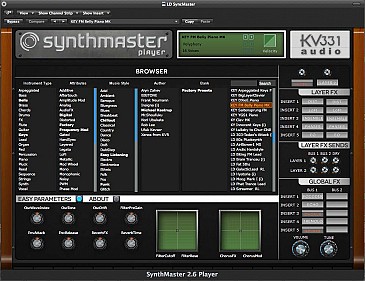 Click to enlarge
For me reason to buy the Instrument version of Synthmaster. Until now I did not explore the Instrument version, its sounds, and its capability to adjust them, and even making new sounds (which is an art on itself). As said in the right column, I deliberately limited myself to the free Player version to make a demo. Also for me the return to skills I used to perform with the good old Atari Notator.
Website
More information about the Synthmaster Player and Instrument can be found on the website of the KV 311 team, here.
Sounds used for the demo
The image below shows the sounds from the free Player version of Synthmaster in the demo song that you can hear in the right column.
Click to enlarge